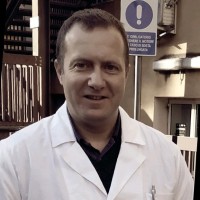 Address
Faculty of Medicine and Psychology.
Department of Psychology,
Sapienza University of Rome,
Via dei Marsi, 78, 00185 Roma
Italy
Contact Information
Research Interests
Neuropsychology
Cognitive neuroscience
Spiking neuron computational model
Neurodegenerative diseases
Network neuroscience
AI-based applications
Pierandrea Mirino
Pierandrea Mirino holds a master's degree in cognitive neuroscience and psychological rehabilitation at the La Sapienza University of Rome with a thesis in neuropsychology "Normal and pathological aging: is the preclinical diagnosis of dementia possible?".  Realization of a computerized battery, which can be installed on portable devices, to allow the identification of an anomalous loss of cognitive ability in subjects that have not yet compromised performance.
Completed his  PhD  in Behavioral Neuroscience, Neuropsychology and Cognitive Neuroscience in 2023 at La Sapienza University of Rome. Neuropsychology laboratory of visual-spatial disorders and navigation, coordinated by Prof. Cecilia Guariglia.
Since 2019, he is Lecturer in Spiking Computational Models of Brain in the Advanced School in Artificial Intelligence promoted by CNR-ISTC.
Pierandrea Mirino is also an expert Software Developer with over 20 years of experience, during which he participated in numerous projects in special departments of government administrations.